How to Support ILoveLearningChinese.com
Thank you for studying with us!
We made ilovelearningchinese.com to help learners anywhere around the world to learn Chinese through simple bite-size yet effective lessons from our experience in teaching Chinese.  With the demand to learn Chinese, we want to build a place where we can support you in your journey of learning Chinese
Chinese Lessons For Everyone
We want to make our lessons accessible to everybody that wants to learn.  We want you as the learner to feel free to study anytime, anywhere without any restrictions.  We will do our best within our given resources to bring you materials to help you study Chinese.  There will be no membership fees, no monthly or yearly fees to access our lesson materials.  But we do need your support to help us in any way you can.
How to Support?
Method 1: Subscribe to Itunes – Rate the Show
If you enjoyed the lessons please consider taking a moment to subscribe and rate the show on Itunes. When you  subscribe and rate the podcast not only does it  encourage us but it helps to keep the program in the ranks so that others may also find  the program.  We appreciate you taking the time to rate us. Thank you!
Method 2: Like us Facebook
We don't do much advertising because it's expensive.   So we rely on social media to get the word out on our website. All those "like" on Facebook seem to add up, So we do appreciate you liking us.
Method 3: Donate 
We appreciate anything you can give to help run this website.  Thanks!
Method 4: Become our Patreon
Want to pledge with us monthly? You can pledge by clicking on our logo bellow. Thanks!
Method 5: Learn Chinese through our Affiliate Program chineseclass101.com
The best subscription based Chinese learning platform out there. A lot of materials there, perfect for the serious learner hungry to learn more. They have 60-day refund no hassles guarantee. We highly encourage trying them.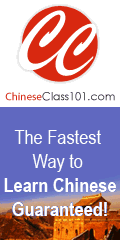 Support Method 6: Buy Pleco Dictionary
If you don't have a Chinese dictionary and you are a serious student trying to learn Chinese, this dictionary is a must.  All my students love using this dictionary to aid in their vocabulary learning. Try it out!